THERMAL OIL
2-STAGE, 4-PASS
THERMIC FLUID OIL HEATER
Grate System:
* Bubbling Bed
* Fixed Grate
* Dumping Grate
Capacities :
100.000 – 10.000.000 Kcal/Hr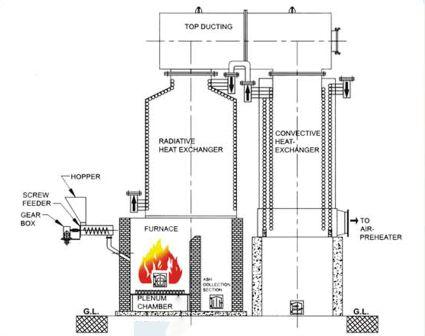 Bubbling Bed/Fixed Grate Thermic Fluid Heater
The high temperature Thermic Fluid Heater is a forced circulation water tube design in which thermic fluid under pressure circulate through a set of nested coils. The hot gases envelop the entire tube surface making maximum use of both radiant & cinvective heart to achive cery high heat transfer rates.
A circulating pump is selected to give the proper flow rate and pressure for each application to optimize motor horse power required while maintaining low film temperature to ensure long fluid life. Temperature controls monitor the output temperature and regulates the Supply of the fuel & air to the furnace to provide efficient combustion of the fuel.
Capacity: 100.000 – 8.000.000 Kcal/hr
Oil Outlet Working temperature up to 300 deg.C
Fuel: Coal. Husk, Lignite, Wood, Agro-Waste, Bagasse, Pet-coke.
Salient Features:
– Excess Air Reduction: Radiant Heat Exchanger above the furnace keeps furnace cooled. Hence, Less Excess air is required and which ultimately increases efficiency.
– Air Preheating: Combustion air fro FD fan passes through air presenter that absorbs the waste heat in fuel gases. It ultimately results into increases in efficiency.
– Balanced Drought System: It means reduction of infiltration of unwanted  air trough fire gates of minimum level. It results into maximum heat recovery from air presenter and assures greater efficiency
– Multifuel Option: Heatex Thremopac is most suitable for coal, husk, lignite, wood, agro-waste, bagasse, pet-coke, etc. For optimum level output with some modification in combustion chamber.
High safety
High oil temperature
High efficiency, low cost
Easy installation,operating,maintenance…
Fully automatic operation
Long life( no corrosion)
Boiler type: horizontal type for capacity from 3-25 million Kcal/hr, vertical type for capacity from 1-2 Kcal/hr.
3- 4 pass flue gas design.
Large and long chain grate modified for Viet Nam powder coal.
Ash breaking device is designed to reduce fouling of coal, before it is dropped down on drag conveyor.
High pressure air distribute, easy to readjust air volume one each chamber
Air preheated installed as boiler standard to increase boiler efficiency.
Many type of environment protection equipment as: Multi-cyclone, bag filter, EP, venturi and web scrubber.